, 2022-09-30 19:08:13,
Dine LA Restaurant Week 2022 takes place Friday, October 14 – Friday, October 28, 2022, including weekends.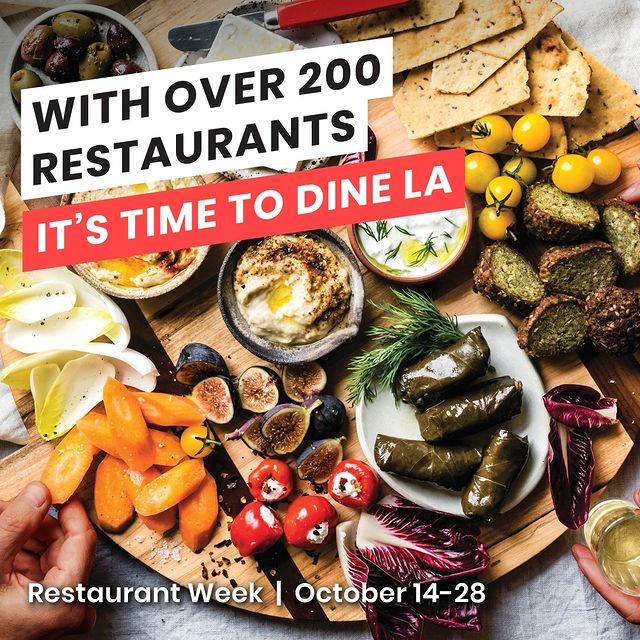 Dine LA Restaurant Week takes place twice a year and showcases Los Angeles as a premier dining destination while highlighting the diversity of culinary experiences L.A. has to offer. 
Enjoy special lunch and dinner menus at hundreds of local restaurants. During the Fall 2022 event, we will be promoting dine-in only. 
There are no tickets or passes required for Dine LA Restaurant Week.
Simply dine out at a participating restaurant, ask for the Dine LA Restaurant Week menu, and try a new dish or enjoy an old favorite.
Advance reservations are strongly recommended.
Things to know about Dine LA Restaurant Week 2022
Participating restaurants offer a special menu* for dine-in for lunch and/or dinner.
Lunch: $15, $25, $35, $45, $55, $65+
Dinner: $15, $25, $35, $45, $55, $65+
*Menu(s) subject to change due to availability of ingredients.
Days and hours of operation vary by restaurant. Please check the operating hours of the individual restaurants when making your plans.
Reservations are recommended wherever possible.
Menus are subject to change without notice based on product availability.
If you are unable to keep your reservation for any reason, please be considerate and cancel as soon as possible to give other diners and the restaurant the opportunity to fill those seats.
Please check with the individual…
,
To read the original article from foodgressing.com, Click here