, 2022-05-26 05:00:00,
Walking down the narrow corridor towards stylist Harry Lambert's studio, I can't be the first person to wonder if Harry Styles – Lambert's most famous client – has trod the same blue carpet. Not that Lambert would tell me. Getting him to talk about Styles is like getting blood from a stone. "OK, look," he says. "When it comes to questions about Harry, I just consider our relationship too private to go too deep. You have to remember I am there in the most intimate times with people I work with. I'm often the last person they see before they go on stage. It's an intimate space! I'm aware that a lot of the attention I get is because of him, but I want to be very careful. But let's try. OK. Go."
Harry met Harry around the time of One Direction's 2014 album, Four. Rumours of a solo career were circulating, and Styles was going through his "Jagger period", wearing black Saint Laurent suits, Chelsea boots and leonine hair tamed by bright bandanas – fashion filtered through NME rather than GQ.
Lambert was mostly styling magazine shoots and fashion shows when they were introduced to each other. He presented a wardrobe ("playful stuff, Gucci and JW Anderson, stuff like that"), and Styles agreed to give it a whirl. What emerged is best described as 1970s man, resurrected – flares, with a side of camp. Styles was always game, he says, "but when it happened, it was still like: 'Fuck, this is wild.'"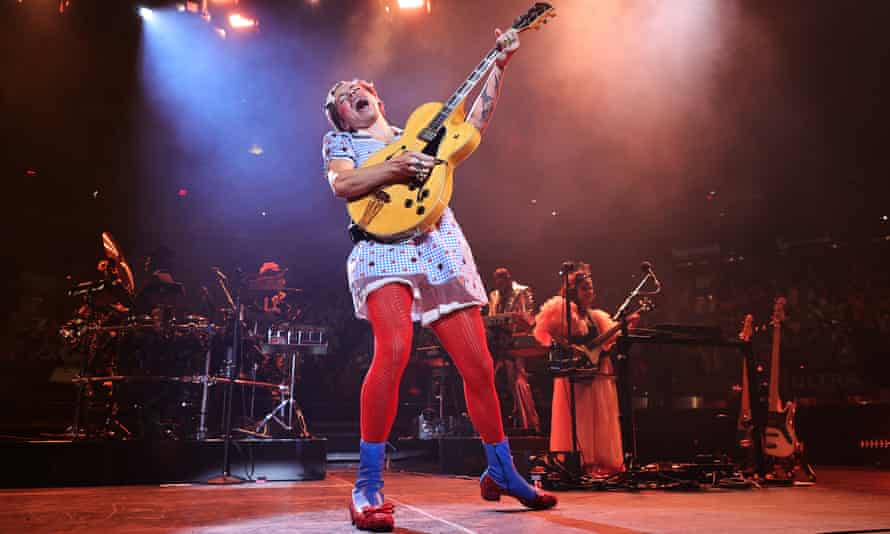 The fashion industry gobbled it up. From the sheer black blouse and single pearl earring at the 2019 Met Gala, to the tight crimson Arturo Obegero jumpsuit in the video to As It Was, Styles became mainstream pop's most determined subverter of gender…
,
To read the original article, go to Click here